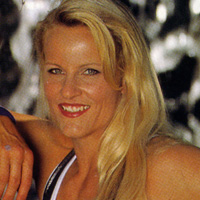 Glacier
Name: Lourene Bevaart
Height: 178 cm
Weight: 74 kg
Country: Australia
Years: 1996
If she looks familiar it's because she won the second series of Australian Gladiators and also a runner-up when she represented the Australian team in the second International Gladiators challenge. Having proven to herself to be just about the toughest Challenger there is, there was no way we could not let her join the toughest team on TV - the mighty Gladiators!
At 178 cm, Glacier is a steely eyed lethal weapon. As a multi-style Karate expert, she has won 3 world titles, 2 world cups and a world championship and has been rated among the top 5 Karate fighters in the world for a staggering seven years.
Glacier says: "Gladiators tests the fitness and endurance of all involved and only the strong will survive". Her favourite games are Powerball, Gauntlet and Swingshot however, if you see her in action on Duel or Suspension Bridge, you will see the ice cold precision of a world class champion crush her opponents.
Your Comments: