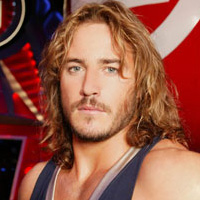 Outlaw
Name: Jackson Mullane
Height: 185 cm
Weight: 100 kg
Country: Australia
Years: 2008
There's just one law - the Outlaw.
Outlaw doesn't obey anyone's rules except his own and those of the referees.
He's a modern outlaw; he rides a Harley and travels the highways of the world looking for adventure or whatever comes his way.
"I do as I please," he says. "I can be tough, a bit naughty and wild but I'm always fair."
He is economic with his words and has a laidback attitude that comes from constantly being on the road chasing sunsets.
Bold, rugged and lawless, this outsider was born to be wild. With an untamed spirit, he tackles every challenge with fearless abandon.
"I am the king of the Pyramid and the keeper of the Powerball," he says. "No-one gets past me and if they try, they pay the price."
At home on his motorbike, Outlaw is just as comfortable in the arena playing other favourites like Hang Tough.
"It requires a tremendous amount of skill and strength," he says.
This wild cowboy is ready to lay down the law to his Challengers.
"I do things my way," he says. "I don't care who my Challengers are or what they do. I'll beat them regardless. I play hard and fast but most importantly I play to win."
Your Comments: