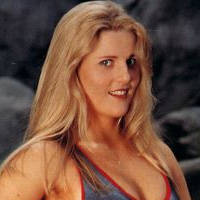 Storm
Name: Charlene Machin
Height: 165 cm
Weight: 56 kg
Country: Australia
Years: 1995 - 1996
They say every storm has a tranquil centre. At 56 kg, Storm's love of Eastern culture provides her calming heart.
She is also a multiple Gold Medallist at various Australian Karate Tournaments and Championships and too the honours as the first Australian to win a Gold Medal at the Olympic-recognised Multi-Style World Karate Championship in Spain.
Storm has also grabbed Gold, Silver and Bronze medals in various Championships in Japan - the home of many martial arts disciplines.
She is an assured and formidable competitor and says her success is due to "determination and a hunger to win," and maintains fitness with boxing and circuit training.
A word of warning to all Challengers: This Storm is unlikely to pass quickly.
Your Comments: