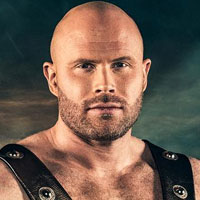 Viikinki (Viking)
Name: Juha Mentula
Height: 184 cm
Weight: 118 kg
Country: Finland
Years: 2017 -
Just looking at Viikinki reveals that sheer strength is his specialty. He arrives, does his job, and if he fails, the equipment may be flying everywhere.
"When I was younger I watched the powerlifting endeavours of my brother and got excited myself. I'd rather look like I have a lot of strength", Viikinki says, referring to his older brother Jari 'Bull' Mentula (a well-known Finnish bodybuilder). He's been going to the gym since his lower secondary school days and at 17 he competed in weightlifting for the first time. His overall result is 1060 kg. "Only a few can do a ton. I squat 415 kg, bench press 325 kg, and deadlift 350 kg."
In 2017, Viikinki joined the line-up of Finnish Gladiators (Gladiaattorit) for its fourth series and was a force to be reckoned with in Earthquake and Gauntlet. From the classic Gladiators he has always been a fan of his original namesake Tony 'Viikinki' Halme, and now he'll be walking in the footsteps of his idol.
He made a welcome return to the Gladiators arena in 2019 for the fifth series.
Your Comments: