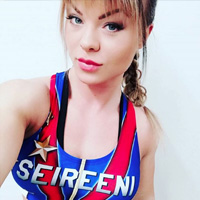 Seireeni (Siren)
Name: Janica Timonen
Height: cm
Weight: kg
Country: Finland
Years: 2017 (as a Contender), 2019 -
Seireeni is one of seven brand new Finnish Gladiators for the 2019 season on MTV3. She is portrayed by champion contender Janica Timonen who won the 2017 series of Finnish Gladiators (Gladiaattorit).
Intersting fact: Seireeni's father, Pasi Timonen, was also a contender in series 2 of the original Finnish Gladiators series in 1993-94.
More information to follow...
Your Comments: