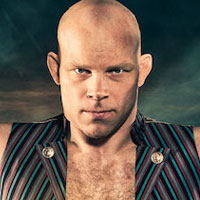 Häjy
Name: Rami Hietaniemi
Height: 180 cm
Weight: 95 kg
Country: Finland
Years: 2017
From Seinäjoki at South Ostrobothnia comes Häjy. While cool and calm on the surface, he's quick-tempered and sturdy and will not flinch at anything.
Greco-Roman wrestler Häjy mentions that it is not a good idea to anger him since when he gets angry, he starts to make trouble and punish those annoying him.
On the wrestling mat, Häjy has gained World Championship bronze medals, European Championship silver medals, and 11 Finnish Championship victories. He represented Finland at the Olympic Games in London 2012 and Rio de Janeiro 2016. His wrestling career was in danger in 2013 when he injured his ulnar nerve, but he didn't give up and made his way back to the podium. In 2015 at the sports industry event Urheilugaala he was rewarded with the "Not Giving Up" award.
Häjy is a qualified professional coach and hopes to continue in the sport after he no longer wrestles professionally. "One doesn't leave sports behind", he summarises. Häjy's best traits are his strength, quickness, and stamina, and he plans on making life difficult for his challengers. His specialty event was Earthquake.
Häjy has been working as a house builder and sports facility manager. He lives with his wife and three daughters in Nurmo, Finland.
Your Comments: