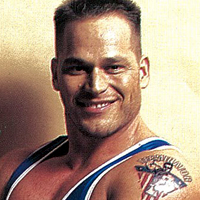 Terminaattori (Terminator)
Name: Mikko Tukonen
Height: 186 cm
Weight: 108 kg
Country: Finland
Years: 1993 - 1994
This cool customer is a champion cross country skier in Finland and has over 150 awards and trophies at junior national level. He is also a keen weight lifter, starting at the unusually young age of 11 and continuing to this day.
Although a native of Finland, he has also lived in California and speaks fluent English. His philosphy on life is to maintain a positive outlook and advises that however bad things may look, there is always hope if you are prepared to try.
Terminaattori was the first Finnish Gladiator to be chosen and gave impeccable performances on Hang Tough and Gauntlet. He remained with the show through all three series and also represented Finland in the first series of International Gladiators.
Terminaattori continues to keep fit and also has a 'Terminaattori Gladiaattorit' tattoo on his left shoulder.
Your Comments: