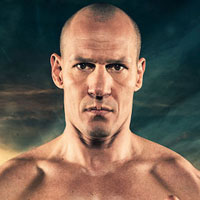 Kivinyrkki (Stone Fist)
Name: Amin Asikainen
Height: 180 cm
Weight: 84 kg
Country: Finland
Years: 2017
Kivinyrkki is fast and agile and his reaction speed is unbelievable. But this Gladiator also has stamina. As the European middleweight champion boxer and the five-time Finnish champion, Kivinyrkki's forte is his versatility.
Kivinyrkki started boxing at 12 years old and before that did football, karate and taekwondo. In his amateur career Kivinyrkki fought 175 matches of which he won 135. As a professional he's fought 32, winning 28 - 19 of these with a knockout. Kivinyrkki has a good strategic eye and can foresee what his opponent will do.
He retired from professional boxing in March 2011 but returned to the ring for a single match in 2016, beating Ivan Jukic with points. He is also featured in the 2009 EA Sports game 'Fight Night Round 4'.
Kivinyrkki was looking forward to proper man-on-man matches in the Gladiators arena and specialised in the Gauntlet. "It's awesome to get the fighting spirit back after all these years", he says.
Since Gladiators, he has continued to be a fitness and boxing coach and runs the Amin Asikainen BootCamp.
Your Comments: