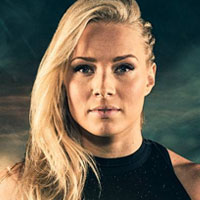 Safiiri (Sapphire)
Name: Oona Tolppanen
Height: 165 cm
Weight: 65 kg
Country: Finland
Years: 2017 -
Safiiri is a super sporty, happy, and zesty person who wants to encourage everyone around her and keep up a good spirit.
"When I was seven I watched Gladiators on the TV and asked my mother if I could apply to be on the show. Of course I was way too young then, but here we are now, 16 years later, as the Gladiator Safiiri!"
Safiiri's background consists of all types of sports: track and field, six years of karate in which she has a blue belt, and 12 years of football all the way to the women's national league. At the moment Safiiri plays rugby in the Finnish national team.
She runs her own well-being and training blog, has always loved exercise, and her idols include athletic sportsmen and women. She calls herself a sports fanatic and has turned it into a career, as she's a personal trainer with a degree in sports coaching.
Safiiri joined the Gladiaattorit ranks in 2017 and was the youngest member of the team. Her best events in the arena are Pyramid and Powerball.
In October 2018, Safiiri had to undergo surgery to her injured knee, luckily she made a full recovery in time for the 2019 season of Finnish Gladiators (Gladiaattorit). Safiiri was ready for action!
Your Comments: