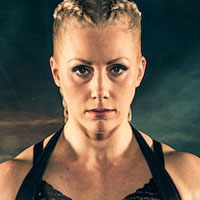 Cobra
Name: Terhi Lumme
Height: 178 cm
Weight: 73 kg
Country: Finland
Years: 2017 -
Cobra is a brave warrior woman with nerves of steel, who respects her opponents.
Cobra is also a classroom teacher and a former fencer. She started fencing when she was 11 and has eight medals from Finnish Championships. She took up crossfit two years ago.
"When I went from fencing to crossfit I knew immediately that I want to compete in it instead of just doing it as a hobby. Crossfit requires a lot of lifting, bodyweight workouts, gymnastics, rowing, biking, running and occasionally swimming", Cobra explains.
The complexity of crossfit and the strength and speed required in it enticed her. Competing in weightlifting has come sort of as a companion to crossfit. Physical contact does not scare Cobra, because she has the bulk with which to steamroll through her opposition.
Becoming a member of the Finnish Gladiators (Gladiaattorit) team in 2017, Cobra soon mastered the Pyramid, Hang Tough and Gauntlet. Cobra is set to return to the Gladiators arena in 2019 for the next season.
Your Comments: