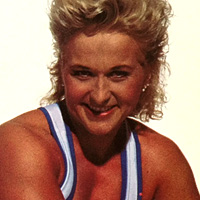 Cobra
Name: Agneta 'Anki' Honkala née Granfors
Height: 163 cm
Weight: 60 kg
Country: Finland
Years: 1993 - 1994
Cobra improved throughout her three seasons in Finnish Gladiators (Gladiaattorit), eventually rising up as one of the dominating forces on The Wall (despite being terrified of heights) and Atlaspheres. Although she was one of the smallest female Gladiators, she trained as a bodybuilder and won the Finnish Nationals twice.
In the arena, Cobra's favourite events were Powerball and Hang Tough and her least favourite was Duel.
Nowadays, Cobra is married to fellow Finnish Gladiator Turbo, although they had met before the Gladiators series. They have two daughters, Jennifer and Victoria. Their younger daughter Jennifer, is a top-notch soccer player, among the best in Finland in her age range. Cobra works as an administrative chief assistant and translator, her mother tongue is Swedish but she is fluent in Finnish and English. She is still very actively into fitness.
Your Comments: