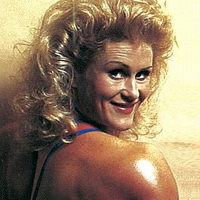 Salama (Flash)
Name: Marjo Krishi
Height: 170 cm
Weight: 76 kg
Country: Finland
Years: 1993 - 1994
Flash has a reputation in her native Finland for never say die. Even when the odds are against her she insists on striving for victory at all costs and never gives up. A strong, adaptable Gladiator and a professional bodybuilder, Salama proved her worth through all the seasons of Gladiators. Her favourite events were Powerball, Assault and Breakthrough & Conquer.
She works as a gym instructor while studying marketing in her homeland and seeks to inspire the same winning attitude in her students.
She lists her interests as jogging, cross country skiing and baseball, in which she has won three major Finnish titles.
She was chosen to represent Finland in the first series of International Gladiators, and was known to world audiences as the mighty Flash.
Your Comments: