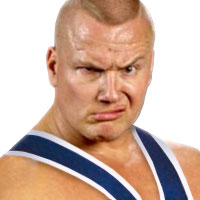 Viikinki (Viking)
Name: Tony Halme
Height: 192 cm
Weight: 140 kg
Country: Finland
Years: 1993
The bad guy of the show, Viikinki was a powerful wrestler, handling Duel and Breakthrough with strength and skill. Competing in the first two seasons, he later authored five books and recorded one album called 'Mestarit Salilla'. From 2003 to 2007 he was a member of the Finnish Parliament, representing the True Finns party as an independent politician.
He was also a professional wrestler best known for his appearances with World Wrestling Federation under the name Ludvig Borga, an MMA fighter and a professional boxer who held the Finnish Heavyweight Championship. He was also the first fighter from the Nordic countries to ever compete in Ultimate Fighting Championship.
Viikinki died on the 8th January 2010, aged 47, from a self-inflicted gunshot wound. Reasons for his suicide are unknown.
Your Comments: