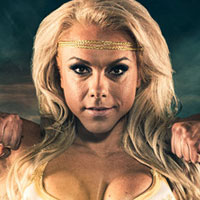 Barbi
Name: Minna Pajulahti
Height: 165 cm
Weight: 80 kg
Country: Finland
Years: 2017 -
During daytime, she's the flight attendant Minna, but at night, she's the Gladiator Barbi. Barbi is not any Barbie doll, but she's extremely strong and flexible, sensual and scary at the same time.
Barbi has been titled the most muscular woman in Finland, and not in vain. While she used to compete in rhythmic gymnastics and cheerleading when she was younger, Barbi took up fitness and weightlifting around the change of millennium, and has since nurtured an expansive professional career as a competitor and as a coach.
Barbi has multiple Finnish and World Championship victories under her belt, and after winning the Arnold USA competition in 2010, she got the professional status. Nowadays Minna competes mostly in the physique class, even though she has world records and championship titles in weightlifting as well. Barbi's bench pressing record is 123 kg, she squats 200 kg, and deadlifts 205,5 kg.
"Usually if someone is strong, they might be a bit stiff, but I'm quite flexible, elastic and agile. I believe that quite many of my qualities will come out in the arena."
In 2017, Barbi joined the Finnish Gladiators (Gladiaattorit) for its relaunched series and was a force to be recknoned with in Earthquake. Unfortunately, Barbi was injured early into the series and was sidelined, but thankfully made a full recovery. The show is set to return in 2019 on MTV3, but don't worry... Barbi is back!
Your Comments: