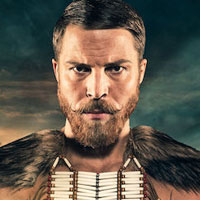 Mohikaani (Mohican)
Name: Jere Tiihonen
Height: 174 cm
Weight: 79 kg
Country: Finland
Years: 2017
Mohikaani is a fearless maverick who moves swiftly but surprises with his strength.
The ex-mixed martial artist has been asked to take part in many different projects but up until now he's always said "no". When invited to become a Gladiator, the answer was a quick "Absolutely, yes!".
His favourite Gladiator from the original series was always his namesake Mika 'Mohikaani' Ounaskari. "As a kid, we would watch the Gladiators a lot and my own favourite was Mohikaani. Mika was that tough guy that we digged", he says.
Mohikaani started boxing at 15, and around the same time started to enjoy working out at the gym. In 1999 Mohikaani took up mixed martial arts and competed in the amateur league. From his bouts in professional cages, Mohikaani mentions his victory over the Frenchman Christophe Chapuis as one of his shining moments.
In 2017, he joined the Finnish Gladiators (Gladiaattorit) team and proved his worth in Snapback and Powerball. He is also the twin brother of Jare Henrik Tiihonen, otherwise known as Finnish rapper Cheek.
Your Comments: