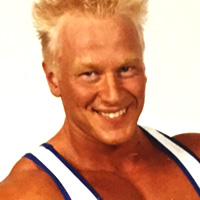 Turbo
Name: Timo Honkala
Height: 178 cm
Weight: 106 kg
Country: Finland
Years: 1993 - 1994
Turbo was a very diverse Gladiator, his strengths ranging from The Wall, Danger Zone and Hang Tough. An experienced bodybuilder, Turbo was fast and agile, and definitely the showman of the Finnish Gladiators series.
His favourite events were Conquer (the wrestling part of Breakthrough & Conquer) and his least favourite was Atlaspheres.
He still competes in the open division as a pro bodybuilder, his first pro show was in 2012 and his latest show was in Florida, USA in 2015. He earned his IFBB pro card in 2011 after winning the super heavyweight in the Finnish Championships 2010. Turbo has won the Finnish Championships six times in total, and has also reached the finals in the World Championships in amateur bodybuilding.
He is married to fellow Finnish Gladiator Cobra, whom he met before the series, and they have two daughters Jennifer and Victoria. Turbo works as a building engineer and personal trainer, specialising in competition preparation and training, aiming at competing in physique shows.
Your Comments: