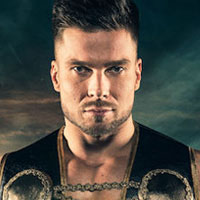 Titaani (Titan)
Name: Vertti Harjuniemi
Height: 180 cm
Weight: 97 kg
Country: Finland
Years: 2017 -
Stoic but noble and confident Titaani is a firefighter and personal trainer. Titaani is known for his exercise and well-being themed TV shows, such as 'Bull vs. Vertti' (2016), and from fitness competitions in Finland.
Titaani has trained for over a decade, and has collected a fair share of Finnish Championship medals from wrestling, swimming, and martial arts. He was also successful in the Men's Physique Finland fitness competition which he won in 2015.
In 2013, he took the first place in Strongest Man in the Firehouse strongman competition and the Firefighters Weightlifting Finnish Championship.
Since he was little, he's admired athleticism and remembers the classic Finnish Gladiators (Gladiaattorit) series well. Gladiators influenced Titaani to start gym training when he was young. "In particular I remember how great the men and women looked like visually, and how physical the whole thing was, was the greatest thing about watching Gladiators", says Titaani.
In 2017, Titaani joined the line-up of Gladiaattorit for the relaunched series was unbeaten in most of his performances - his specialty was Hang Tough. Titaani is known as the all-rounder and returns for his second season in 2019.
Your Comments: