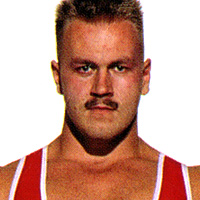 Retu
Name: Pasi Paavisto
Height: 201 cm
Weight: 140 kg
Country: Finland
Years: 1993 - 1994
Retu is a Finnish strongman and former powerlifter. He has won several Junior Championship medals in power lifting, as well as the adult championship silver in 1990. After Powerlifting, he has participated in Finland's Strongest Man competitions, as well as several other Strongman competitions, both in Finland and abroad.
Being the largest male Gladiator, Retu was naturally strong in events such as Duel and Gauntlet. One of his most memorable moments in Gladiators was when he knocked a Contender off the Duel platform in less than 1 second.
Nowadays he works as a massage therapist and osteopath in his hometown Harjavalta, Finland.
Your Comments: