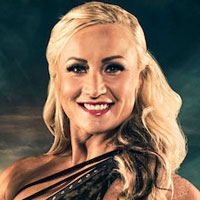 Laser
Name: Rita Niemi-Manninen
Height: 160 cm
Weight: 60 kg
Country: Finland
Years: 2017
Laser is swift on her feet, feminine, and unstoppable. Laser operates effectively on all the events, since she is in fact an all-rounder sportswoman.
Laser trains every day, teaches sports classes, and works as a personal trainer. Laser competed in competitive aerobics for 16 years and won 11 championship medals. When she was little, Laser idolised the Gladiators and had plastered the ceiling above her bed with posters of Viikinki, Pantteri, and of course, Laser. She has seen each and every episode of the classic Finnish Gladiators (Gladiaattorit) series.
"It was totally in its own league, such a huge thing. The Gladiators were in a wonderful shape and I idolised them a lot as a young gymnast", she says.
Prior to becoming Laser on Gladiators, she was a contestant on the Finnish reality television show 'Temptation Island Suomi' and went on to marry fellow contestant Aki Mannine in 2015. Aki also joined the Finnish Gladiators team, under the name of Turbo, in 2017.
During her time on Finnish Gladiators (Gladiaattorit) her signature events were Hang Tough and Snapback.
In 2018, the couple announced Laser's pregnancy with the baby due in 2019. Due to her pregnancy at the time of filming, Laser did not return for its fifth series. Along with husband Turbo, they co-own a fitness and wellness business called 'RitAki'.
Your Comments: