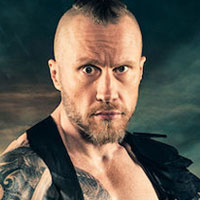 Hurja (Furious)
Name: Hannes Hyvönen
Height: 187 cm
Weight: 100 kg
Country: Finland
Years: 2017
Hurja is inclined to play rough and at the borders of good sportsmanship. He arrives in the arena with a ferocious stare in his eyes.
"The name Hurja (Furious, Ferocious etc.) comes from my ice hockey career in the 90's. It came when I, as a bit younger fella, played a bit outside the rules, hurt my opponents with hard tackles, and played tricks. Here in the Gladiators Hurja will compete exactly the same. I'm a bit of a mean a***hole," says Hurja who's won World Championship bronze playing in the Finnish national ice hockey team.
He has always been at home with exercise and used to play basketball and football. Ice hockey became his career when he was 18. Hurja has played in all the major leagues: in Sweden, Switzerland, Finland, Norway, Russia, and NHL. He's played in the Finnish national team twice, as well as some of the biggest teams such as the San Jose Sharks, Färjestad Bollklubb, HC Dinamo Minsk, Ak Bars Kazan, and the Kongsvinger Knights.
Hurja has followed the Swedish Gladiators for many years, having lived in Sweden, and the Finnish version is not unknown to him. "Everyone used to follow the programme in Finland, and in Sweden, one of my mates is the commentator. So this is all familiar." When Hurja gets his ice hockey game mood on, his only thought is perseverance. The victory will be had by any possible means.
In 2017, Hurja joined the line-up of Gladiaattorit and was unstoppable in Snapback.
After Gladiators, he went on to compete in the third series of the reality television series Survivor Finland (Selviytyjät Suomi), filmed in the Philippines and broadcast on Nelonen in 2019.
Your Comments: