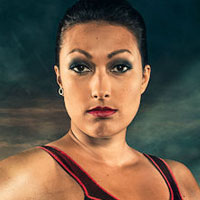 Skorpioni (Scorpio)
Name: Milena AbbasMamode
Height: 175 cm
Weight: 80 kg
Country: Finland
Years: 2017 -
Skorpioni is strong and has a will to win. When she was little, Skorpioni lost her heart to basketball, baseball and floorball. As a counterbalance to all the ball games, she's danced hip hop and jazz, and has a degree in jazz dance.
In her twenties Skorpioni discovered American football. Hard work paid off and now Skorpioni plays at the national level, her position is the defensive end or the defensive tackle. In American football Skorpioni gets tackle, wrestle, and dominate, so Gladiators fits her like a glove.
"All events that require blocking and skin-on-skin contact are good for me. Blocking, tackling, and explosive strength are my fortes", Skorpioni summarises.
Originally from Finnish-Mauritian heritage, Skorpioni joined the Finnish Gladiators (Gladiaattorit) team in 2017, boasting to be a superb all-rounder and was unbeaten in most of her events - especially her signature event Pyramid. She will return for her second season of Gladiatorial action in 2019.
Your Comments: