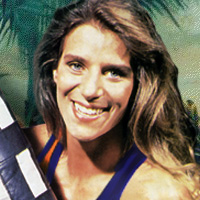 Sheena
Name: Tina Andrew
Height: 1.88 m
Weight: 70 kg
Country: South Africa
Years: 1997
Standing at 6'2" Sheena, is the tallest South African female Gladiator. She was also an amateur triathlete and her favourite games are Duel and Powerball where she can show her superb strength and speed.
Prior to representing South Africa in the Springbok Challenge, Sheena, the Queen of the jungle, was part of the UK Gladiators team. Known as Laser during Series 5 in 1996, she was a force to be reckoned with and was chosen to represent the UK against Australia in Gladiators: The Ashes.
Since Gladiators, Laser and her husband Peter relocated to America and have two children called Michael and Michaela. Michael is a competitive swimmer and hopes he will reach his goal of possibly racing at the 2016 Summer Olympic Games in Rio de Janiero and toward the 2020 Summer Games in Tokyo.
Your Comments: