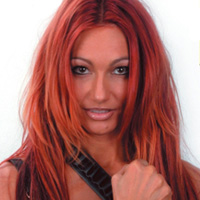 Fire
Name: Magdalena 'Mags' Wysoczanska
Height: 1.73 m
Weight: 56 kg
Country: South Africa
Years: 1999 - 2001
"Beauty comes from within", claims the Polish beauty queen of many a pageant across the land. Fire's burning energy and smouldering heat will vault your pulse to quick time and make your heart beat in your feet. This yoga-practicing vegetarian strives and thrives on balance, believing that with a positive and balanced mind she can conquer anything.
She loves photography, pottery, rock climbing, kickboxing, surfing, hiking, power kiting and even soccer on the beach. Fire blazes with a fury and tempers with the heat, she owns a health and fitness centre and has her own range of casual wear clothing. When the heat's not on, Fire takes time out to reflect on herself, always maintaining a good balance in life. She says to her fans, "Keep a positive attitude in school, at work and life in general"!
Fire balances her physical Gladiator image by running her own creative interior design business.
Your Comments: