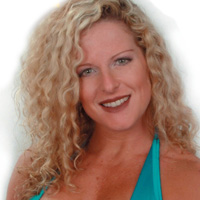 Ice
Name: Marion Hind
Height: 1.68 m
Weight: 57 kg
Country: South Africa
Years: 2000 - 2001
Born in Durban schooled in New Zealand and the Cape now residing in Gauteng. Ice is a professional freelance actress and singer and has appeared in numerous theatrical productions, cabarets and television productions. If she's not doing curtain calls Ice is happiest in the gym; training, teaching aerobics or running with her club mates.
Ice's early years of gymnastic training, Western Province athletics and Western Province hockey prepared her for her role as the 'coolest' girl in Gladiators. She took a step back from Gladiatorial combat in Series 5 and became the assistant referee, alongside Wayne 'The Boss' Price, because she had a baby icicle on the way!
Ice's message to her fans, "Life is not a rehearsal...just get up and do it!".
Your Comments: