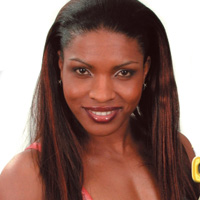 Shadow
Name: Desiré Thomas
Height: 1.73 m
Weight: 56 kg
Country: South Africa
Years: 1999 - 2001
There's nowhere to go and nowhere to hide, Shadow is behind you, in front and alongside! She may be an ex fire fighter and committed to help, but this one time nurse will give not a hand to any contender that dares stand on her land. Shadow is a personal fitness trainer who runs a hairdressing salon and a Katabox studio, where she takes great pride in whipping her protégées into great shape.
There's a special side of this lady however that will shiver your heart, for to Nkosi's Haven she's given her own good heart - providing programmes for the total physical and mental wellness of mothers with HIV. The dark side of Shadow will lurk within, conquering contenders and winning the crowd, whilst out the arena she'll love and protect you forever!
Shadow has obtained many achievements in the fitness industry, winning 2 gold medals in the World Firefighter Games in 1998; 4th place in the Miss Vodacom Fitness Challenge 1999; 3rd place in the 100% Naturals Miss Fitness in 1999 as well as making it through for nationals in the Miss Health & Fitness 2000 in April. She has also worked with three time world boxing champion, Baby Jakes Matlala, helping to develop youngsters into successful sports people.
Your Comments: