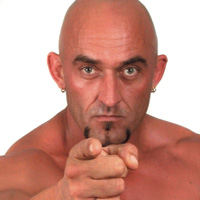 Granite
Name: Garth Collins
Height: 1.95 m
Weight: 125 kg
Country: South Africa
Years: 1999 - 2001
Granite is the epitome of a gladiator, trained to fight in the arena and provide entertainment for the masses.
Granite, like the gladiators of ancient Rome, is the toughest of the tough, the meanest of the mean, and will not shy away from a challenge. He has an extensive background in the martial arts, American Football and Strongman events. He combines his balance, agility, strength and the knowledge of the effective use of his body into the phenomenon that is Granite!
Granite was born and raised in Centurion. He played baseball for more than twenty years and achieved provincial colours for 19 of those years. Granite played American Football from 1990 to 1995 and was selected for the South African All-Stars team every year he played. He is a 1st Dan Karateka with the Shotokan Federation of South Africa and won the SFSA Kumite Championships in 1996. In 1997 he took to the gym with the same passion that he has always put into all his sporting endeavours and participated in the South African Strongman competition in 1997 and 1998, placing in the top ten both years, he also won a few regional competitions.
Granite's Motto: "You can achieve anything in life as long as you believe in yourself!".
Your Comments: