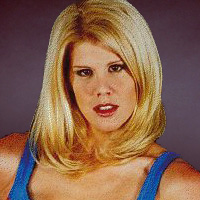 Aqua
Name: Marieka Theunissen
Height: 1.79 m
Weight: 73 kg
Country: South Africa
Years: 2000
Aqua, who worked as a senior financial accountant in Durban, lives up to her name as she is as happy in the water as out of it. A former holder of the South African 100 metres freestyle record, she won 4 medals for swimming at the All Africa Games in Harare in 1995; two gold, a silver and a bronze. Since recovering from a serious shoulder injury, she has turned her attention to long-distance swimming. Aqua won all ten open-water swimming races she has entered, including the 2000 Midmar Mile and the South African 5 km Open Water Championships. She set her sights on the World Open Water Championships 2000 in Hawaii. Canoeing is another of Aqua's pastimes, and she also does a lot of running.
Although she was a new member of the MTN Gladiators, Aqua was no stranger to Gladiators she was part of the South African squad that competed against the UK in the Springbok Challenge in 1997. Known as Ivory, she was undefeated on Hang Tough and Duel.
Nowadays, Aqua lives in Australia working as a Group Finance Manager.
Your Comments: