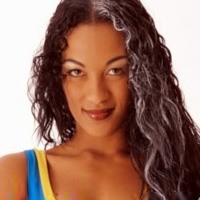 Lightning
Name: René Roberts-Patel
Height: 1.75 m
Weight: 57 kg
Country: South Africa
Years: 1999 - 2000
Lightning is originally from Cape Town where she attended school in a small suburb called Mithcells Plain. After high school she then studied Local Government Management at the Peninsula Technikon in Cape Town. All her life she has been an achiever, and has won many beauty titles such as Miss Surf, Miss Clifton Beach Challenge, and was also a finalist in the Miss Universe South Africa Pageant.
Lightning was also a school principal of the Topco Modelling and Grooming school in Johannesburg.
She believes that her family and friends are very important to her because they are her pillars of strength and motivation.
Your Comments: