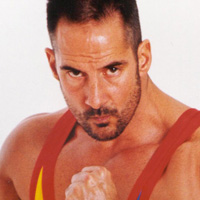 Jackal
Name: Dave Ridley
Height: 1.78 m
Weight: 95 kg
Country: South Africa
Years: 1997, 1999, 2000
Being a bad boy, devious, sly and cunning character on the MTN Gladiators show is not new to Jackal. Since finishing at Parktown Boys High he qualified as a Field Engineer and six years later started in the film industry. He studied speech and drama under Bess Finney for two years and took part in a number of plays, taking the lead in Musicians of Bremen at the Rosebank Theatre. Jackal played the Sparkman character in Sparkpark on KTV. He has taken parts in numerous action films and international television commercials usually as a baddie, doing a lot of his own stunt work.
Jackal was one of the original South African Gladiators who took part in the British Springbok Challenge series in 1997. He helped to promote the MTN Gladiators series across the beaches of South Africa in 1999, along with fellow Gladiators Rhino, Teak and Sting. He then joined the TV show during Series 3.
When not in front of the camera, Jackal has his own Computer Hardware and Software Company dealing with a number of corporate companies. His motto in the business world is to provide a good service. Jackal can be found six days a week in the gym as he makes fitness and health a priority in life, so should you. Outside you will find him riding his Harley Motorcycle catching the wind in the mountains. He keeps in tip-top shape by swimming, cycling, running and horse riding.
Your Comments: