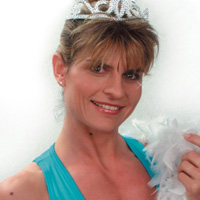 Diamond
Name: Bernadette Beyer
Height: 1.72 m
Weight: 69 kg
Country: South Africa
Years: 1997, 2001
The hardest naturally occurring substance in the Gladiator world, Diamond became a sparkling success as a member of the SA team of Gladiators who went to Birmingham in 1997 where she won the coveted title of 'Best South African Gladiator' during the Springbok Challenge series.
The many facets of this precious gem include Springbok colours for body building from 1995 to 1997 to running a successful business with her husband in the sports industry, supplying a unique range of supplements. She's a glittering light who still finds time to consult on diet and training, as well as organising the first Miss Fitness SA Pageant in August 2001.
Beautiful to look at and awesome to see, but be careful this Diamond, she crushes contenders like fleas.
Your Comments: