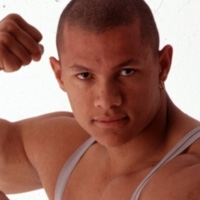 Tusk
Name: Shannon Gaskin
Height: 1.95 m
Weight: 115 kg
Country: South Africa
Years: 1997, 1999 - 2000
Tusk was born in Umtata, but moved to Cape Town to enjoy the beaches and beautiful scenery. When he wasn't busy with MTN Gladiators, his work involved designing promotional clothing for clients. He stood out from a early age, achieving Provincial and National Colours for athletics, and went on to use his charm and good looks to win the Mr Clifton, Mr Argus Rave, Mr Surf and Mr SA Action Man Western Cape Titles. His dedication to strength and fitness training also saw him represent the Western Cape two years running in the Camel Trophy SA selections.
Tusk had been a member of the Gladiators team since 1996 when he represented South Africa in Birmingham, United Kingdom, during the Springbok Challenge series. With the limited training that was given to the team, Tusk remained undefeated on Duel. He was recognised as one of the best Gladiators in the International show and with the amount of shows behind him, makes Tusk one of the most experienced South African Gladiators.
Tusk is a keen outdoor adventurer, who has among other things challenged the mighty Zambezi River and bungee jumped off the Victoria Falls Bridge. He also enjoys hiking and plays a good game of golf.
His goal now is to inspire young people to achieve their dreams.
Your Comments: