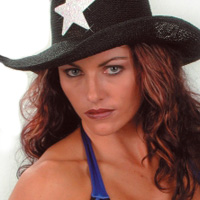 Thunder
Name: Jade Phillips née Russell
Height: 1.73 m
Weight: 68 kg
Country: South Africa
Years: 1999 - 2001
Powerful teams are made up of powerful individuals and that's why Thunder is a determined, fun-loving and energetic sportsperson who can stir up a storm! This 'thunder-gun' cowgirl has excelled in sport since childhood and now as a home Personal Trainer she encourages fit, healthy and active lifestyles. Within the raging tempest you'll sometimes get to hear, the rich rolling voice of Thunder whisper in your ear, "I am only one, but I still am one. I cannot do everything, yet I can do something. I will not refuse to do the something I can do".
She's successful, inspiring and extraordinary - but she'll say, "so are you". She's strong, powerful and determined - but she'll say, "you can be too". She's special, different and unique - but she'll say, "look in the mirror". She's a hero, an inspiration and fortunate but she'll say, "I'm a child of God, just like you".
Thunder now lives in Houston, Texas, with her husband Clint and 3 young children. She was almost selected as one of NBC's new American Gladiators in 2008, along with her husband, both just missing out to a place on the team.
Your Comments: