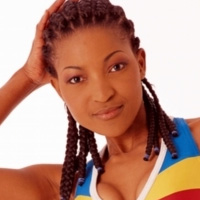 Nightshade
Name: Nelly Mokhonoana
Height: 1.74 m
Weight: 60 kg
Country: South Africa
Years: 1999 - 2000
MTN Gladiator Nightshade is recognised by her many fans as the MTN Mountain Diva. When not scaling The Mountain, Nightshade parades as a part-time model, and applies her academic talents to working as a Sales and Marketing Executive with a well known training company.
Keeping fit and healthy is an essential part of her lifestyle. Nightshade trains 5 to 6 times per week. Following a strict training program, which includes activities such as sports aerobics, free weights and circuit training.
Among her many achievements, Nightshade has successfully attained her university honours degree, collected numerous medals for long distance running and to highlight her versatility, a top 5 runner up in the Miss SA beauty pageant.
Your Comments: