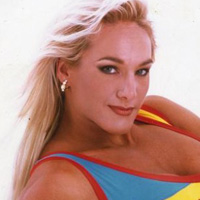 Force
Name: Joanne Rossi
Height: 1.73 m
Weight: 71 kg
Country: South Africa
Years: 1999 - 2000
"Winning isn't everything, but wanting to is" is a saying that has been the focus of Force's determined athletic success. Force has been a South African Powerlifting Champion, Miss Figure and Miss Fitness South Africa, competed in the USA in athletics, does dancing, sports aerobics, gymnastics and weight training which all culminated in her selection as a Gladiator. Not only is she strong and athletic but has won and competed in several beauty pageants and has a wonderful love for animals. One of Force's achievements was the launch of her supplement company - "Kids don't forget to eat your protein and vitamins".
Force believes that the key element to success is "to be the best that you can be".
Nowadays, Force lives in Gauteng and works as a wedding and function planner with expertise in event management and decor.
Your Comments: