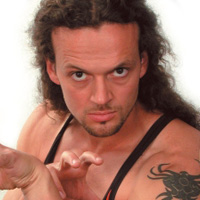 Spider
Name: Sergio Capellino
Height: 1.88 m
Weight: 80 kg
Country: South Africa
Years: 1997, 1999 - 2001
A BCOM and a world ranking of 8 in Sports Aerobics are just two of Spider's many achievements, he also runs his own business helping people to better their health and grow their wealth. He also used to work as a Physical Education teacher and Gymnastics coach at school level.
Gymnastics, action movies and animals are what he really likes, but best of all is climbing, of course! Preferring creepy, crawly creatures he claims Mopani worms taste quite nice but warns against the crunchy Parktown Prawn. He loves his mom, dad and sister but wants to grow his family of 3 Labradors and Pepsi the bulldog with a few arachnid brothers and sisters!
Take heed of what this 'hanging man' has to say, Make as many friends as possible and have lots and lots of fun. Cry a little, smile a lot, respect everyone...and most important don't, and I repeat don't, squash spiders!".
He competed in gymnastics from 1987 to 1994, achieving provincial colours on a number of occasions. He participated in triathlons having won first place overall of the Perm Radio 5 (open mens team) Triathlon 1992 and achieved a gold medal in the Mini Men Triathlon. One of Spider's greatest achievements was when he was awarded his Protea Colours for Sports Aerobics in 1998.
Your Comments: