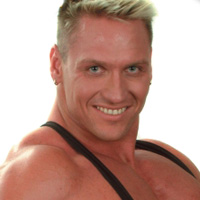 Giant
Name: Matthew Haldenby
Height: 2.06 m
Weight: 133 kg
Country: South Africa
Years: 1999 - 2001
Fee-fi-fo-fum, the biggest South African Gladiator is Englishman! Born in the Isles of Thanet in 1971, Giant remains faithful to his name, standing over 2 metres tall this incredible hulk is the tallest body builder in South African history. Giant not only achieved a top 5 placing at the '97 SA Strongman Championship but he markets his dynamic dimensions and sensational skills in local and international broadcast productions.
Giant is the proud owner of the most loved and protected teddy bear across the nation! 'Kensington', a gift from his grandmother, has been Giant's loyal companion for over 17 years, either accompanying him to battle or watching safely from the sidelines, 'teddy sat' in the caring arms of younger fans.
Giant, together with Warrior, set up an empowering programme for kids called 'Power Kids'.
Your Comments: