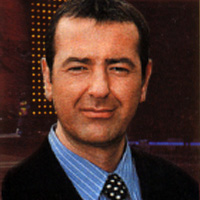 John Sachs
Role: Commentator
Born: 3 May 1957 - London, England
Age: 66 years old
Star Sign: Taurus
John provided the voice-over commentary for every series of the Gladiators on ITV and was hugely popular with fans of the show.
He has been involved in the entertainment industry for the past 25 years. He has been a radio and television broadcaster for 17 years with 12 of those years spent on Capital FM, where he won numerous awards, namely Variety Club ILR Presenter of the years and Silver at the World Radio awards in New York. Other radio stations include Jazz FM, BBC Radio 2, and Y100 in Florida, United States.
He is also well known for his part in The Brian Conley Show's 'Dangerous Brian' segment, which on a few occasions featured the Gladiators.
John now spends his time producing films and theatre shows.
The GladPod:
Your Comments: