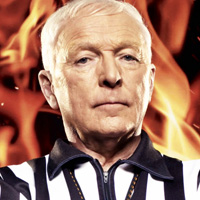 John Anderson
Role: Referee
Born: 28 November 1931 - Glasgow, Scotland
Age: 91 years old
Star Sign: Sagittarius
The man who gets '3, 2, 1' shouted at him wherever he goes began his career as a teacher and he has coached athletes for the Commonwealth Games, European Championships, Olympic Games and World Championships, including Commonwealth Games champion and former World Record Holder David Moorcroft.
John was National Coach for the Amateur Athletics Association of England and subsequently the first full time National Coach in Scotland between 1965 - 1970. He was coach to an Olympian at every Olympics from 1964 to 2000 and has coached 5 world record holders and 170 GB Internationals in every event.
John was also Director of Training for the original Gladiators show during all 8 series and in 2008, he briefly resumed his role as referee on the newly revived Gladiators on Sky 1. Since Gladiators, he has gone on to become a mentor and coach for a number of recent international athletes, including Great British athlete William Sharman (who assisted John in the role of timekeeper in Gladiators 2008), who he helped transform from a decathlete to a world class sprint hurdler, and he continues to coach at a local and regional level.
Your Comments: