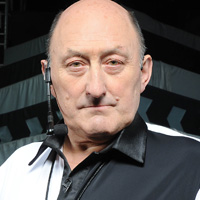 John Coyle
Role: Referee
Born: n/a
Age: n/a
Star Sign: n/a
John Coyle is one of Britain's most respected boxing referees. He has refereed over 100 world title fights and was voted the WBA World Referee of the year in 1992.
Coyle has officiated bouts with some of the biggest fighters of recent times including Lennox Lewis, Joe Calzaghe, Nigel Benn, Chris Eubank, Frank Bruno and Naseem Hamed. Coyle also refereed the infamous Mike Tyson/Lou Savarese fight in Glasgow in June 2000 where he was knocked down by Tyson after intervening to stop Tyson punching Savarese after the fight had been called.
John was assisted during the 2009 series by video referee Hugh Watkins and timekeepers Andy East and Mark Allen. Andy and Mark were both trainers of the Gladiators and Contenders and were decathletes outside of the show.
Your Comments: