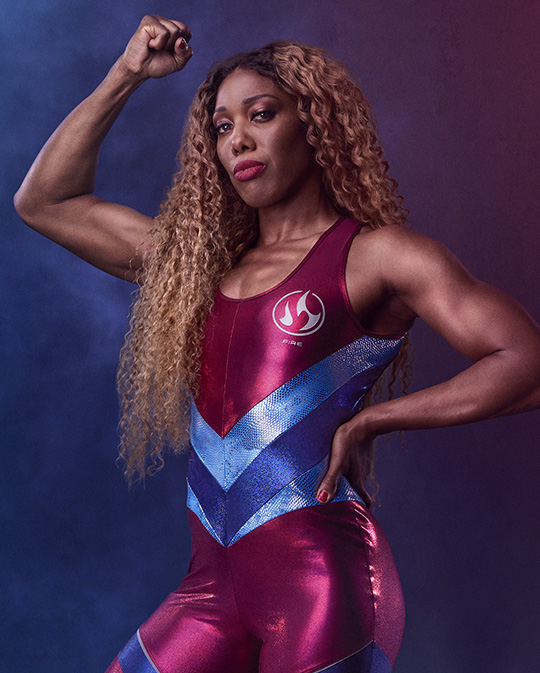 Fire
Name: Montell Douglas

"I'm so pleased I've been asked to be Fire! Being a gladiator has been a secret lifelong dream of mine. As a strong and powerful woman, I'm living proof that you can achieve your dreams, no matter what age or background, if you believe and keep pushing. I'm ready to light up the competition!"
Blazing into the Gladiators stadium like a Flash is Montell Douglas. She's fierce and will burn through the arena destroying anyone who gets in her way, earning her the name Fire.
Former Team GB Sprinter and Olympic Bobsledder, she held the British woman's record for fastest 100m sprint at 11.05 seconds, smashing the previous record which had stood unbeaten for 27 years. In January 2022, Montell made sporting history to become the first female UK athlete to compete at both the Summer and Winter Olympic Games. In 2010, she won Commonwealth Gold in the 4x100m relay race in Delhi - and holds a European Under-23 Silver Medal in 100m. Montell moved into bobsledding in 2016, and the following year finished within the Top 10 at her World Cup debut. When competing at the Beijing Winter Olympics in 2022, Montell returned to the city where she had competed 14 years previously at the 2008 Summer Olympics. Montell loves inspiring women to achieve their dreams, no matter what age, height or background they're from.
Contenders should beware of Fire. She's fast, unpredictable and dangerous and will ravage anyone in her path.
Follow Fire on Instagram: @firethegladiator