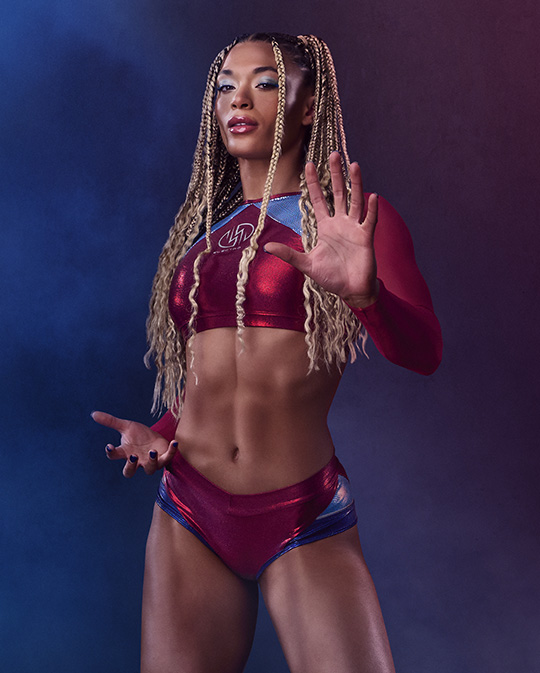 Electro
Name: Jade Packer

"I hope Electro can spark an unstoppable pursuit for a new generation of athletes. I'm ready to light up the arena with a different kind of energy."
Jade Packer is a quick, electrifying, unstoppable force, earning her the name Electro. She's the perfect mix of strength, speed and skill.
Now a sports model, fitness coach and hybrid athlete she started her journey as a sprinter. Her speed and abilities led to her being ranked amongst the Top 10 Fastest Runners in the UK aged 12 for 150m and she went onto to race for titles at various championships over the 100m and 200 m.
She got into Bodybuilding at the age of 18 after discovering the sport on Instagram. Her dedication to training won her 4 x Top 3 UKBFF Placings in the Wellness Category, an invite to compete at the Arnold Classic and an IFBB Elite Pro Card by taking Gold at the English Grand Prix.
After training for only a year before her first show, she became an instant sensation and went on to represent the UK in both Barcelona and Madrid throughout her 2 seasons.
Now training in CrossFit, with a unique hybrid-style that incorporates her athletic background, she describes running as 'still her forte' alongside her strength and power.
She is on a mission to fulfil her true 'athletic potential' - and has no fears or limits. Her strong work ethic means she'll do everything she can to succeed.
Electro will make sparks fly, so don't be shocked when she unleashes her full force onto the contenders.
Follow Electro on Instagram: @electro_thegladiator