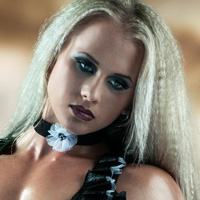 Spirit
Name: Sarah Bäckman
Height: 173 cm
Weight: 72 kg
Country: Sweden
Years: 2013
Spirit is a being stuck between two worlds, not fully present in any of them.
Spirit is an extremely beautiful, yet deadly Gladiator. A dark fairy, she is a dangerous creature of the forest that attracts and seduces her pray, but her nature demands that she crushes the people who dare to challenge her.
This Gladiator enjoys power over her opponents and she uses her immense strength without mercy.
Your Comments: