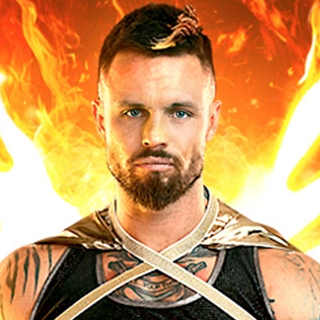 Phoenix
Name: Sandor Earl
Country: Australia
Height: 192 cm
Weight: 105 kg
Years: 2023 - Present
Meet Phoenix. Just like his totem, every battle is a new beginning for Phoenix, he will rise and never fall. With incredible speed, power, and strength, he thrives on adrenaline. Phoenix is rough around the edges, with an air of menace. He is resilient and fierce, welcoming any challenge in the Arena. Always playing to win – Phoenix will out-psych his opponent. Towering in height and physique, he is the ultimate competitor and knows it. Those who dare to enter the Gladiator Arena for combat must earn his respect.
The muscle and mind behind the character of Phoenix is Sandor Earl. New Zealand Māori international rugby league footballer for the Sydney Roosters, Penrith Panthers, Canberra Raiders, and the Melbourne Storm in the National Rugby League; Sandor Earl retired from the NRL three years ago.
Born in Wellington, then raised in the Easter Suburbs of Sydney, he is now based in Newcastle, NSW. A hybrid athlete who focuses on strength, speed and power, Sandor has played competitive sports since the age of three and co-founded a fitness training business.
Gladiators on 10 and 10 Play – Premieres Monday 8 January, 2024 at 7.30pm.