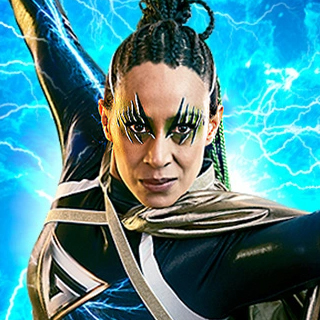 Elektra
Name: Alethea Boon
Country: Australia
Height: 161 cm
Weight: 64 kg
Years: 2023 - Present
Dare to flick the switch and watch Elektra become an absolute livewire! Reactive and explosive when in action, she'll shock you to the core. With a fierce gaze that will unsettle any Contender, Elektra's silence is unnerving. She may be unassuming in size, but Elektra is a force to be reckoned with. Delivering short bursts of electricity in the Arena – challenge her at your own risk.
The elite athlete behind the character of Elektra is Alethea Boon. Born in Suva Fiji, Alethea Boon grew up in Auckland, New Zealand. She represented her home country and Pasifika community for Weightlifting at the 2018 Commonwealth Games, and Artistic Gymnastics at the 2002 and 1998 Commonwealth Games. Eight months before becoming a Gladiator, Alethea gave birth to her daughter! She rebuilt her body after suffering a bilateral embolism in 2010 – an experience that gave her an even bigger appreciation for life.
Gladiators on 10 and 10 Play – Premieres Monday 8 January, 2024 at 7.30pm.