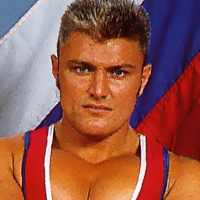 Dynamite
Name: Vladimir Turchinsky
Height: 5'10"
Weight: 250 lbs
Country: Russia
Years: 1994 - 1996
He may not be as tall as the Gladiatorial man mountains, but inch for inch Dynamite was one of the most powerful Gladiators you are ever likely to see. His incredible strength and muscle concentration make raw power his main weapon and he made full use of it in the arena. He was also the captain of Russian Gladiators team.
A professional athlete, Dynamite held a Master in Sport from the Soviet Council on Athletics in Free-Style Wrestling and was a Champion of the Soviet Union. He set a number of world records in strength athletics and was the president of the Russian Federation of Strength Athletics.
The athlete is included in the Guinness Book of Records for pulling a double-decker bus weighing 20 tonnes for 100 meters with only his left hand. He also managed to budge a 260 tonne Ruslan cargo plane, lifted an elephant weighing 3.5 tonnes and lifted a Lada VAZ-2109 with 12 passengers!
Dynamite was also known as a showman and actor. He hosted a number of programs on Russian television, from sports to comedy shows and starred in 27 films. His hobbies included wood sculpture and financial accounting - the first he said is to ease his nerves, the second for surviving in modern Russia's harsh economic climate.
Sadly, on the 16 December 2009, Dynamite died of a heart attack in his home outside Moscow. He was just 47 years old and is survived by his wife Irina and two children.
Your Comments: