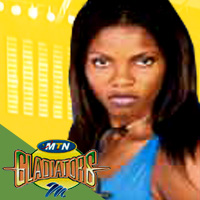 Sapphire
Name: Beauty Nze
Height: 5'8"
Weight: 61 kg
Country: Nigeria
Years: 2002
Sapphire, a former model jumped at the chance to be a Gladiator, not only to prove to herself that she could do it, but to also become a role model. A budding actor, Sapphire hoped to break into TV full-time.
Gladiator Motto: United we stand, divided we fall.
Tragically, on the 26th October 2015 Sapphire lost her life after being shot by Nigerian policeman, Joseph Aminu, in Lagos. According to the police report, she was shot in the leg during an altercation with a mobile policeman and later died in hospital. The policeman was charged with murder.
Sapphire was a tennis player and member of the prestigious Lagos Lawn Tennis Club, who actively engaged in the sport for over a decade. Her daughter Angel Macleod is said to be one of the most promising tennis players in Nigeria.
Your Comments: