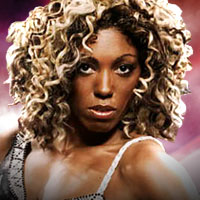 Amazon
Name: Zoe Williams
Born: 3 April 1980 - Burnley, England
Age: 36 years old
Star Sign: Aries
Height: 5' 10" Weight: 10st 6lbs
Theme Tune: n/a
Regal and Amazonian, natures' powerful force runs through her veins.
Amazon grew up in Nelson, Lancashire, and developed a passion for competitive sport from an early age; at school, she played hockey and netball at county level. Her love of team sports continued when she went to Newcastle University to study medicine, joining a rugby team. An avid rugby fan, Amazon has represented Northumberland at rugby union and recently played for Blaydon Women's Rugby Club at Premiership National League level.
It was whilst completing her second year as a qualified doctor, working in Newcastle hospitals, that she received the calling to become a Gladiator. Amazon impressed the production team during a Contender audition and was invited to try-out as a Gladiator. She see's her role as a doctor and as a Gladiator complimenting each other and hopes this will help to promote diet and exercise to a wider audience, especially to women and children.
Amazon is a regal warrior and a loyal team player. She brings a sense of tribal nature to the team and is happiest when battling alongside and defending her fellow Gladiators. Her attributes are strength, speed and wisdom, which combine to make her an all-rounder who excels at all events. She particularly enjoys contact games, where her wild nature can take over and she can pulverise her opponents. Amazon is a fair Gladiator, she gives credit to the Contenders when deserved, but also gives them a good dressing down when she feels that they have not performed adequately.
Amazon is Sky's 'green' Gladiator. This means that she will be the face of Sky's current green campaign and an ambassador for the promotion of environmentally friendly life choices. It also means she has the frightening task of trying to get Goliath to control his methane gas emissions! The green role means that you will see publications covering Amazon's work in schools, offices and domestic areas. Things to look out for in the near future include the 'Appetite for Action' schools competition, the digital switchover amnesty, Amazon's 'New Year - New You' eco-diary, the green diet and various environmentally linked advertisements.
Your Comments: